Bruce J. Dickson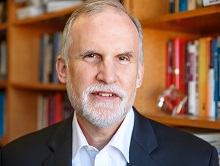 Bruce J. Dickson
Professor of Political Science and International Affairs
Full-time
---
Contact:
Professor Dickson's research and teaching focus on political dynamics in China, especially the adaptability of the Chinese Communist Party and the regime it governs. In addition to courses on China, he also teaches on comparative politics, authoritarianism, and democratization.
---
Chinese politics; authoritarian regimes; regime change; state-society relations
Professor Dickson's current research examines the political consequences of economic reform in China, the Chinese Communist Party's evolving strategy for survival, and the changing relationship between state and society. His research has been supported by the National Science Foundation, the Smith Richardson Foundation, the US Institute of Peace, and the Woodrow Wilson International Center for Scholars. 
PSC 1001 - Introduction to Comparative Politics
PSC 2371 - China's Domestic and Foreign Policies
PSC 6370 - Politics of China I
PSC 6371 - Politics of China II
PSC 8331 - Advanced Theories of Comparative Politics
PSC 8340 - Authoritarianism
Books:
The Party and the People: Chinese Politics in the 21st Century (Princeton University Press, forthcoming)
The Dictator's Dilemma: The Chinese Communist Party's Strategy for Survival (New York: Oxford University Press, 2016)
Allies of the State: Democratic Support and Regime Support among China's Private Entrepreneurs (Harvard University Press, 2010), co-author with Jie Chen
Wealth into Power: The Communist Party's Embrace of China's Private Sector (Cambridge University Press, 2008)
Red Capitalists in China: The Party, Private Entrepreneurs, and Prospects for Political Change (Cambridge University Press, 2003)
Democratization in China and Taiwan: The Adaptability of Leninist Parties (Oxford University Press, 1998)
Professor Dickson has also published articles in Asian Survey, China Quarterly, Comparative Politics, Comparative Political Studies, Current History, Journal of Democracy, and Political Science Quarterly, and is co-editor of four other books.