2021 Political Science Newsletter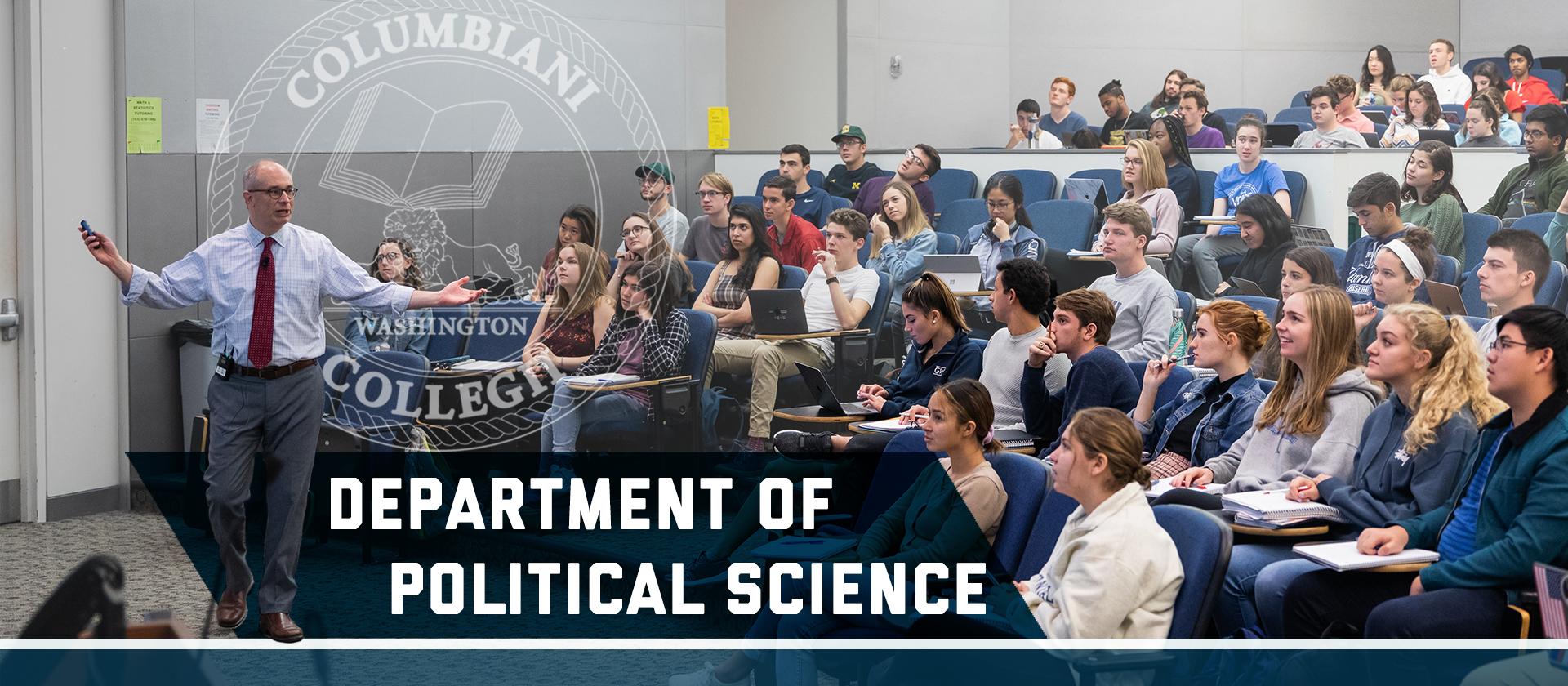 ---
Message from the Chair
Dear Political Science Alumni,
We are back! After a year and a half of remote classes and only a handful of students and faculty on campus last year, we have returned to our three-dimensional, in-person campus experience. Students started to come back to campus in mid-August, and it was fun to see the campus increasingly bustling with returning students reuniting with friends, first-year and second-year students arriving in Foggy Bottom for the first time and long lines again at the GW Deli.
This semester, GW celebrated its bicentennial anniversary, and I enjoyed meeting our alumni and parents of current students. The celebration marked a positive step in our return to an in-person student experience. One thing that continued was the ongoing success of our students and faculty, which we detail in this newsletter.
As Bruce Dickson noted in the last newsletter, I began serving as chair on July 1. Bruce is a tough act to follow, but he left the department in good shape. We have a terrific staff to help keep things running smoothly, and we managed a smooth transition in leadership. We always enjoy hearing from alumni, and if you would like to get involved with the department by providing career advice to current students or recent graduates, please send me a note at [email protected].
Sincerely,
Eric Lawrence
Department Chair
---
Department Spotlights
Welcome New Faculty: Andrew Ifedapo Thompson
We are pleased to welcome to the Department of Political Science Assistant Professor of Political Science Andrew Ifedapo Thompson. Dr. Thompson's areas of expertise include American politics, political psychology, public opinion, race and politics and experimental methods. 
Dr. Thompson received his bachelor's in political science and philosophy at Marquette University, and his PhD at Northwestern University. This semester, he is teaching an intro to American politics and government course (1002) and a course on the politics of racial demographic change (3500).
Dr. Thompson was inspired to become a political science professor because he found himself captivated by how people think about politics—what motivates their views, how they change and how they stay the same. His lifelong dream has been the process of studying political attitudes, analyzing them and presenting what he finds to fellow scholars and students. Dr. Thompson thinks that one of the most effective methods for students to become active learners is to ask good, pointed questions. Although, he understands that it is an incredibly hard skill to develop and it is often taken for granted. Students can glean so much from the world by interrogating it actively and openly with inquiry. Dr. Thompson believes it requires humility to do this, but finds it to be a great virtue to develop in learning. 
Professor Thompson says that he was most excited about getting to know his colleagues in the Political Science Department, all of the interesting things that his students are doing and living in D.C. He believes that the city is incredibly vibrant and that he has only scratched the surface of all of the things that are possible in D.C. Dr. Thompson stated that, "on D.C. specifically, a few things I'm still trying to wrap my head around are go-go, Nike boots, Wale and mumbo sauce. I'm not trying to say I don't get them but… I don't get them."
First Gen-Students Graduate with Pride
More than 300 first-generation students earned their degrees from GW this past spring, including political science major Kristy Pham.
Kristy, who arrived on campus from Houston and joined a community of students who think seriously about changing the world, was profiled in GWToday.
---
Alumni Class Notes
Sultan Alamer, MA '14, MA '17, published in April 2021 "Biden and the War in Yemen: The Larger Context of the Shifts in the American Position" with the Carnegie Endowment for International Peace and "Deploying Authority: Saudi Arabia and Egypt Strive to Respond to COVID-19" with the ​​American Political Science Association–Middle East and North Africa.
Kynda Alzoubi, BA '21, is an insurance broker and risk advisor in D.C at MarshMcLennan, the world's largest insurance brokerage firm. She hopes to specialize in political and multinational risk.
Samer Anabtawi, MA '18, published "Palestine's Emerging National Movement: 'Questions On My Mind'" with the Carnegie Endowment for International Peace in June 2021.
Francis Anderson, BA '95, works for Ellorenz Records as a lead actor, and producer, and is shooting their first full-feature, a comedic superhero origin movie titled Lion of Judah Legacy, in the Washington-Metro area. 
Omar Ashmawy, BA '97, JD '00, is the staff director and chief counsel of the Office of Congressional Ethics (OCE), the U.S. House of Representatives' independent ethics office. He recently marked his tenth year as head of the OCE.
Gyungmin Bae, BA '21, is a risk and compliance analyst at a due diligence company based in Washington, D.C.
Andrew Bates, BA '71, believes his political science work at GW was a perfect stepping stone for his career as an international disaster planner.
Isaac Borenstein, BA '72, is teaching two courses this fall as a lecturer in law at the Boston University School of Law. He continues with a busy mediation and arbitration practice at TMG (The Mediation Group) in Brookline, Mass., and handles the occasional criminal case.
Erik Bottcher, BA '01, won the Democratic primary to be the next New York City Council Member for District 3, which includes the neighborhoods of Greenwich Village, Chelsea and Hell's Kitchen.
Ryan Brenner, BA '13, is starting a new position at ME&A, Inc., an international development firm based in the Washington, D.C., area. She is providing innovative solutions for economic development and social progress in more than 80 countries.
Raven Burnett, BA '11, is in her final year of law school at the Louisiana State University Paul M. Hebert Law Center. Previously, she worked at Moody's Investors Service as an associate analyst.
Gary Carlton, BA '76, practiced law for 39 years after graduating from GW. He has been a judge since 2019.
Nick Carr, BA '16, advises political candidates, campaigns and advocacy groups on all things political as a senior strategist at The Lukens Company in D.C. Previously, he worked on Capitol Hill as the director of special projects for his hometown congressman.
Narciso Castaneda, BA '81, is the assistant secretary of the Department of Foreign Affairs. He is the former ambassador of the Philippines to the Sultanate of Oman. 
Nicole Cennamo, BA '21, is pursuing her MA in politics and education at Columbia University. She is currently working for the New York State Department of Education, the Community College Research Center and Barnard College Events Management.
Joseph Cerrone, MA '20, was awarded the Best Paper Prize by the Transnational Memory and Identity Research Network at the 2021 Conference for European Studies. He was also awarded the 2020-21 Best WID TA Award, received a Centennial Center Research Grant from the American Political Science Association in August 2021, and published "Ranked-Choice Voting, Runoff, and Democracy: Insights from Maine and Other U.S. States" with Dr. Cynthia McClintock in February 2021 on the New America website. 
Roy Chernus, BA '75, is in his tenth year as a superior court judge in Marin County, Calif. He has been happily married for 43 years to Renee Chernus with two married sons and three delightful grandchildren.
Sandon Cohen, BA '82, retired in 2015 after nearly 30 years practicing law.
Lawrence Culleen, BA '79, JD '82,worked for the U.S. Environmental Protection Agency as a manager in various chemicals-regulatory programs before entering private practice in Arnold & Porter's D.C. offices.
Jennifer Davis, MPhil '10, PhD '11, served as a member at large on the Executive Committee for ISA from 2018-2020, and is currently working on a book exploring the spread of negative norms in the international community.
Kathleen Dolan, BA '73, MPA '82, recently retired from the U.S. government, but remains very active working on international standards and standardization. She currently chairs two committees at the International Organization for Standardization.
Bill Dugan, BA '19, works fulltime in marketing and copywriting for digital magazine and newsletter publishing ventures. 
Lillian Frost, MA '16, PhD '20, received the "Best Dissertation" award from the American Political Science Association Middle East and North Africa Politics section in June 2021. She was also awarded a Peace Scholar Dissertation Fellowship and stipend for her dissertation, "Beyond Citizenship: Protracted Refugees and the State," from the U.S. Institute of Peace.
Amanda Fugazy, BA '95, is married to her college sweetheart, fellow GW alumnus Scott Brennan, BBA '95. They have two daughters and live in Glen Cove, NY. Amanda is a partner at Ellenoff, Grossman & Schole LLP in New York City and is head of its Labor & Employment group.
Jesus Garcia, BA '21, is now working for the Court of Appeals of Virginia. He also coaches youth soccer for FC Richmond.
Vicki Gaul, BA '84, was thrilled to participate in GW's commencement on the National Mall with her husband, Richard Weitzner, for their son, Aaron Weitzner, MA '21, who graduated from the Elliott School's MA program in international affairs.
Fatema Ghasletwala, BA '16, graduated cum laude from Temple University Beasley School of Law in May 2021. Fatema passed the Pennsylvania Bar Exam and is now working as an associate in the Intellectual Property & Technology group at Blank Rome, LLP in Philadelphia, Penn.
Laurie Gibbons, BA '00, is clerking for New York State Court of Appeals Judge Madeline Singas. She lives with her husband and four daughters on Long Island.
Chad Gilmartin, BA '19, served as the special assistant to President Donald J. Trump and was the principal assistant press secretary under White House Press Secretary, Kayleigh McEnany. He is currently deputy spokesman to House Republican Leader Kevin McCarthy.
Nicole Goins, BA '19, began her career at the U.S. Department of Justice as an investigative researcher, specializing in consumer fraud targeting the elderly. She recently joined a cutting edge team of investigative research analysts at Dun & Bradstreet.
Danielle Gonzales, BA '01, is running for school board in Albuquerque, N.M. She spent her entire career in education. She is a parent/guardian to four school-age children and is eager to bring her experience and perspective to the district.
Bill Gralnick, BA '65, MA '68, wrote George Washington Never Slept Here.
Elizabeth Grasmeder, MA '16, MPhil '18, PhD '20, published, "Leaning on Legionnaires: Why Modern States Recruit Foreign Soldiers" in the summer of 2021 edition of International Security. 
Lukas Grund, BA '18, lives in Washington, D.C., where he works in the government affairs shop at the Cato Institute.
Simone Haugen, BA '16, is a practicing attorney in Chicago.
Harry Heckel, BA '67, used his political science training every day and retired from the state of Virginia as a computer programmer and systems analyst. Harry has written several philosophy books and currently resides outside of Richmond, Va.
Michael Henrich, BA '06, joined public relations agency Arch Street Communications, as director of public engagement after a 15-year Emmy Award-winning journalism career. He also founded the media training consultancy Henrich Communications, LLC.
John Holder, MA '90, MPhil '93, spent more than 20 years teaching political science at Winthrop University in his hometown of Rock Hill, S.C.
Donald Jacobs, BA '73, completed 21 years as a municipal management consultant after 20 years as a town manager in Massachusetts. His focus is compensation: employee performance management and classification and compensation.
Alicia Jones, BA '99, is a partner at the law firm of Kilpatrick, Townsend & Stockton, where her practice focuses on international trademark enforcement and portfolio management. She is the mother of two girls and resides in Atlanta, Ga.
Aliya Kaimoldinova, BA '10, is a Chevening Scholar at the London School of Economics. She works as the head of the global relations office at Nazarbayev University, Kazakhstan.
Daniel Kassl, BA '21, works in litigation support for Sidley Austin LLP, one of the most renowned litigation firms in the world.
Craig Kauffman, PhD '12, published his second book through MIT Press: The Politics of Rights of Nature: Strategies for Building a More Sustainable Future. He also received a $100,000 grant from the Rockefeller Brothers Fund for his current research.
Kendrick Kuo, BA '11, MPhil '19, PhD '21, was awarded the World Politics & Statecraft Fellowship grant from the Smith Richardson Foundation.
Ryan LeCloux, BA '10, is a legislative analyst with the Wisconsin Legislative Reference Bureau, where he conducts research and analysis on policy issues, laws, and legislation for the Wisconsin legislature.
Evan Magallanes, BA '21, attends the University of Texas, Austin, at the Lyndon B. Johnson School of Public Affairs, pursuing a master's degree in Public Affairs. He also serves as a graduate research assistant with the Texas Energy Poverty Research Institute.
Max McGowen, BA '11, MPS '12, is an operations manager at Silicon Valley Community Foundation. As the world's largest community foundation, the philanthropic organization is a catalyst for change in key issue areas that it has identified as most pressing in Silicon Valley.
Shannon McQueen, MA '19, PhD '21, published "Pipeline or Pipedream: Gender Balance Legislation's Effect on Women's Presence in State Government" in the 2021 State Politics & Policy Quarterly. 
Bryce Mendez, BA '08, MPH '10, recently returned to GW as a first year student in the Doctor of Public Health program at the Milken Institute School of Public Health. 
Christopher Myers, BA '84, is a strategic marketing consultant, adjunct marketing professor at the University of Memphis, innovator of the special needs platform called REABILITY and author of six books with two more near completion.
Jonathon Myers, BA '92, retired after 28 years as a Marine Corps intelligence officer, culminating as the director of regional intelligence support to the chairman of the Joint Chiefs of Staff. He recently published American to the Corps, a memoir of service.
William Olewiler, BA '66, continues testing the Pfizer COVID vaccine. He also leads communion and preaches every first Sunday at an independent congregation in Florida.
Brandon Ona, BA '16, is the director of business services for the Technical College System of Georgia. He leads Georgia's efforts to promote workforce development programs and registered apprenticeships.
Sean O'Neil, BA '21, is a legislative assistant at the National Grange.
Michael Orenstein, BA '79, completed his 36th year in private practice of state and federal criminal defense.
Devan Patel, BA '16, joined D.C.-based Allegiance Strategies LLC as counsel and senior director of legal affairs, where he oversees advocacy efforts and legislative drafting for clients across the political spectrum in LGBT rights, religious liberty and immigration.
Nicholas Prendergast, BA '19, is graduating from Vanderbilt Law School in May 2022, and then is returning to Washington, D.C., to become a litigation associate with Simpson Thacher & Bartlett.
Michael Purzycki, BA '08, is a technical writer on a federal contract. He also writes extensively on politics and national security, including a prize-winning 2020 essay on energy security.
Adam Ramey, BA '04, is a tenured associate professor and head of the political science program at New York University Abu Dhabi.
Aparna Ravi, PhD '21, accepted an assistant professor position at University College London.
Patrick Jay Realiza, BA '11, was appointed chair of the GW Asian and Pacific Islander Alumni Network in July 2021.
James Rowe, BA '07, is a third-year J.D. candidate at Cornell Law School. His immediate plans include matriculating into a doctoral program in political science and joining the world of academia.
Rosalie Rubio, MA '18, published, "A Coup in Jordan? Why Even Fabricated Plots Matter," on the Political Violence at a Glance website in April 2021 and "Jordan's King Abdullah, feeling the squeeze from within — and without" on the Responsible Statecraft website in June 2021.
Diana Santillán, BA '94, MA '98, MA '06, MPhil '07, is a senior gender advisor for the Office of Population and Reproductive Health in the Bureau for Global Health at the United States Agency for International Development.
Ethan Shuchart, BA '20, is a second-year (2L) student at the GW Law School, where he is focusing on business law and litigation.
Sam Stroud, BA '20, teaches English at a public middle school in South Korea.
Borui Sun, BA '18, received her Master of Public Policy degree last summer and works at the World Bank as a research associate on its Development Impact Evaluation team.
Sarah Taub, BA '20, is finishing her second year of her master's degree at the Johns Hopkins University's School of Advanced International Studies, while currently interning with the U.S. Department of Defense.
Kevin Tierney, BA '09, is a regional organizer for the Massachusetts Teachers Association, helping advocate for educators by causing "good trouble' throughout the northeast. He and his wife, Kristin, and their two sons, Brendan and Sean, are enjoying life living in the Merrimack Valley region.
Amanda Ussak, BA '10, joined the Montgomery County Innovation Team as a civic designer to bring a human-centered approach to county services.
Julian Waller, BA '13, MA '16, assisted in publishing, "Mobilization Mass Perceptions and (Dis) information: 'New' and 'Old' Media Consumption Patterns and Protest," in the April 2021 edition of Social Media + Society.
Brian Washburn, BA '97, along with classmate Tim Waxenfelter, BA '97, launched a corporate training and e-learning development company in 2015. Brian's first book, What's Your Formula: Combine Learning Elements for Impactful Training, was released in the summer of 2021.
Danielle Wilkerson, BA '02, is taking a career hiatus to attend law school, after spending nearly two decades working on political campaigns as well as advocacy and representational work for labor unions. 
William Winther, BA '10, is lives in Los Angeles and works with elite musicians and YouTuber talents to scale their businesses.
Cora Wolfinger, BA '20, completed a service term with AmeriCorps in New York and started law school in Philadelphia.
---
Faculty Kudos
Celeste Arrington co-edited Rights Claiming in South Korea, which was published in April 2021.
Sarah Binder was featured in The Arizona Republic article "The Gaggle podcast: Will Sen. Sinema's bipartisan ideology lead to more wins in Senate?" She was quoted by Reuters in the article "Seven months and ticking, the case for keeping Powell as Fed chair builds"; by PBS' "Frontline'' in the article "Who Is on the Federal Reserve Board?"; and by The Globe and Mail in the article "Democrats and Republicans want to play by their own rules." She was also quoted by The Wall Street Journal in the article "Fed Chair Powell Enjoys Support For Reappointment, but He's Not a Lock." She authored the article "Pelosi just rejected two Republicans for the Jan. 6 investigation. Here are three takeaways," for The Washington Post. She was quoted by The Arizona Republic in the article "Senate votes to move forward with Sinema-led $1.2 trillion infrastructure plan," and by The New York Times in the article "Flying Pigs, Frozen Hell and the Bipartisan Infrastructure Bill." 

She also authored the article "

Why is Manchin such a thorn in the Democratic Party's side? Let us count the reasons," for The Washington Post. She was quoted by The Guardian in the article "Joe Manchin: the Democrat who holds the fate of Biden's agenda in his hand," and by Reuters in the article "Explainer: U.S. Senate's reconciliation process: it's not the way it sounds." She was mentioned by The Baltimore Sun in the article "Sen. Manchin, do you love the Senate more than your country? | COMMENTARY." She also authored the article "Do we have an infrastructure deal?" for The Washington Post.
Michael Barnett authored the article "Humanitarian organizations won't listen to groups on the ground, in part because of institutionalized racism," for The Washington Post. 
Nathan J. Brown, Shimaa Hatab and Amr Adly published Lumbering State, Restless Society in October 2021. 
Richard Chasdi spoke to Asharq News about Afghanistan and China, to al-Jazeera on the Aljazeera Mubasher Channel, to Al Hurra about Yemen, and to al-Jazeera about the Grand Ethiopian Renaissance Dam. He also spoke to Aljazeera English about Algeria's parliamentary election.
Adam Dean co-authored the article "Strong teachers unions and school mask mandates go together, our research finds," for The Washington Post.
Bruce Dickson's book The Party and the People: Chinese Politics in the 21st Century was quoted by The Guardian in the article "Tunisia shows that democracy will struggle if it cannot deliver," by The Pembroke Observer in the article "Who's Pan Dong? Meet the publicity-shy Chinese-Canadian soap tycoon," and by The Economist in the article "On its centenary, five authors assess China's Communist Party." He was mentioned by The South China Morning Post in the article "Summer books 2021 for all ages, from Chinese fantasy fiction and Netflix-ready sci-fi to self-help guides and Covid-19 deep dives." He also spoke to NPR's "Morning Edition'' about the 100th anniversary of China's communist party, he was quoted by CNN in the article " Xi Jinping only wants the most devoted Chinese Communist Party members. His tough membership rules could backfire," and by The New York Times in the article "Competition Is Good — Even With China."
Alexander Downes authored Catastrophic Success: Why Foreign-Imposed Regime Change Goes Wrong, which was published in December 2021.
Martha Finnemore was awarded the Distinguished Career Scholar Award, Office of the Vice President for Research.
Samuel Goldman published a book, After Nationalism: Being American in an Age of Division, in June 2021. He was also mentioned by The Washington Examiner in the article "Where school choice legislation falls short," by The New York Times in the article " How Conservatives Can Reshape Education" and had a book reviewed by The Wall Street Journal in the article "Politics: Nationalism, Then and Now."
Danny Hayes co-authored the article "Republicans don't trust their election officials, research finds — especially in states Biden won," for The Washington Post. He also co-wrote News Hole: The Demise of Local Journalism and Political Engagement, which was published in September 2021.
Amoz Hor published "The Everyday Emotional Lives of Aid Workers: How Humanitarian Anxiety gets in the way of Meaningful Local Participation" in October 2021.
Graduate student Adam Charles Lenton published "Why Didn't Ukraine Fight for Crimea? Evidence from Declassified National Security and Defense Council Proceedings," in Problems of Post-Communism in April 2021.
John Logsdon was quoted by Business Insider in the articles "Report suggests Branson may try to beat Bezos into space – and Virgin Galactic didn't deny it," "Jeff Bezos' trip to space is risky. Here's how it compares to driving a truck or working in a warehouse" and "Billionaire Richard Branson is set to beat Jeff Bezos to space on Sunday. Their launches will differ in 3 big ways." He was also quoted by The Guardian in the article "Rocket men: Bezos, Musk and Branson scramble for space supremacy," by Business Insider in the article "Jeff Bezos is trusting Blue Origin's new rocket with his life. It's flown 15 times, but he'll have no pilot and possibly no spacesuit," by The Los Angeles Times in the article "In billionaires' space race, tourism is a sideshow to quest for moon landing contracts," by The Houston Chronicle in the article "Elon Musk and Jeff Bezos' space race is heating up, and Texas gets a front-row seat," and by San Antonio Express-News in the article "Elon Musk and Jeff Bezos' space race is heating up, and Texas gets a front-row seat." He gave comments to NBC News in the article "Bezos, Branson and Musk are fighting over space bragging rights, but who's really paying for their trips?"; to Aljazeera English about updating the rules in space; and to CBS Radio about Jeff Bezos going into space. Additionally, he was quoted by Sinclair Broadcast Group in the article "Bezos defends Blue Origin flight as some question benefits of space tourism," and by The Daily Beast in the article "Inside the Dangerous Consequences of Russia's Space Screwups." He also spoke to C-SPAN's "Washington Journal" about private industry and spaceflight, and gave comments to Time in the articles" How the Inspiration4 Mission Fits Into the Long History of Civilian Space Travel" and "Four Civilian Astronauts. Three Days in Orbit. One Giant Leap. Meet the Inspiration4 Crew."
Cynthia McClintock was quoted by Sinclair Broadcast Group in the article "Harris draws criticism from all sides as she returns from Central America trip," and by The Wall Street Journal in the article "Pedro Castillo Is Declared Peru's President-Elect." She also co-authored the article " Why Peru's next leader was elected by a less than 1 percent margin," for The Washington Post.
Michael Miller wrote Shock to the System: Coups, Elections, and War on the Road to Democratization, which was published in July 2021.
Lucia M. Rafanelli wrote Promoting Justice Across Borders: The Ethics of Reform Intervention, which was published in August 2021.
David Shambaugh wrote China's Leaders: From Mao to Now, which was published in June 2021. He was quoted by Fortune in the article " 3 big questions for China's future on the 100th anniversary of its Communist Party," by The Economist in the article "On its centenary, five authors assess China's Communist Party" and by The South China Morning Post in the article "Wolf vs panda: is China at a crossroads over how to spread its global message?" He was also quoted by The Korea Times in the article "'Don't mention 3Ts': Confucius Institutes endanger academic freedom in Korea." He also spoke to Australia's ABC News in the segment "China's Communist Party turns 100."
Julian Wamble was featured in CCAS Spotlight for his course Harry Potter and the Politics of Social Identity.
Christopher Warshaw was quoted by The Indianapolis Star in "Indiana's congressional, state maps substantially favor Republicans, study says," by WTHR-NBC13 in the article "Gerrymandering in Indiana is worse than 95% of the U.S., new report says," by Tribune News Service in the article " Voter ID aims to prevent fraud that doesn't exist, and more to know as Pennsylvania considers stricter rules," by The Associated Press in the article " Census data spurred GOP's largest partisan edge in decades," and by McClatchy Newspapers in the article "Will Missouri Republicans try to draw Rep. Cleaver out of office? Democrats are wary."