2022 Political Science Newsletter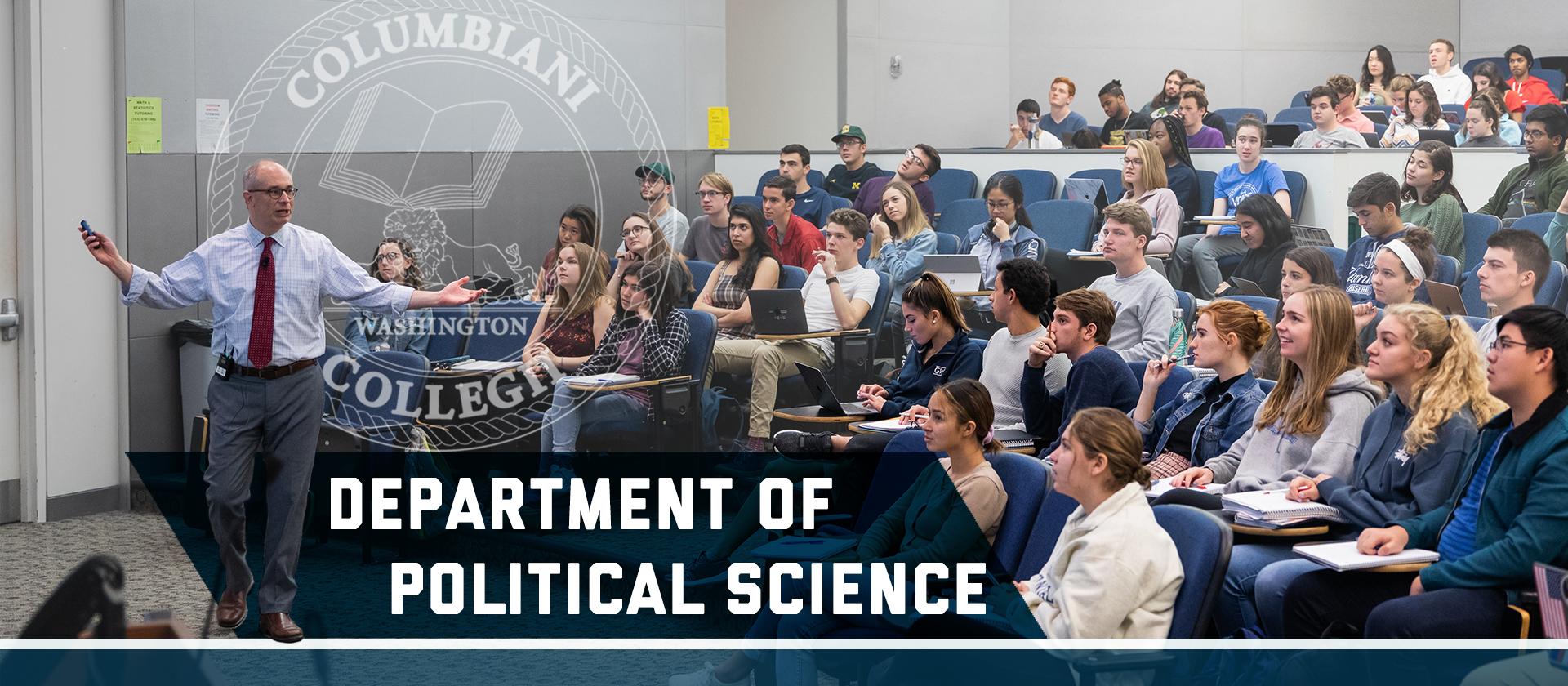 Message from the Chair
Department Spotlights
Department Kudos
Alumni Class Notes
---
Message from the Chair
Greetings Political Science Alumni,
Life in the GW Political Science Department rolls on at a rapid clip. In May, I had the honor of sitting on the stage in the Smith Center for the CCAS graduation. Seated next to me was one of our majors who was selected as the distinguished scholar for the college and, therefore, the student speaker for the ceremony. Earlier that same day, I met many graduates and their families at our Political Science graduation brunch and learned about the exciting things our students had lined up post-graduation. One former student had recently landed a job working at the Supreme Court, and her parents were very happy for her. In October, GW celebrated its annual family and alumni weekend, and I enjoyed meeting some of our new students and their parents at the well-attended family breakfast, including parents who were also GW Political Science alumni.
I am in my second year as department chair and chairing a large department keeps me busy. Last year, we managed to hire three new full-time faculty and add six new part-time faculty to our teaching roster, some of whom allow us to add exciting new courses to our curriculum. One thing that remained unchanged was the ongoing success of our students and faculty, which we detail in this newsletter. We always enjoy hearing from alumni and if you would like to get involved with the department by providing career advice to current students or recent graduates, please send me a note at [email protected].
Sincerely,
Eric Lawrence
Chair, Department of Political Science
---
Department Spotlights
Binder: Did the Red Wave Wash Out?
In a video conversation with CCAS Dean Paul Wahlbeck, Political Science Professor Sarah Binder reviewed the 2022 midterm election results and explained how Republicans won a majority in the House of Representatives and Democrats maintained control of the Senate despite predictions of a Republican sweep.
---
Welcome New Faculty: Alicia Cooperman and Jeffrey Ding
We are pleased to welcome to the Department of Political Science Assistant Professor of Political Science and International Affairs Dr. Alicia Dailey Cooperman, and Assistant Professor of Political Science Dr. Jeffrey Ding. Dr. Cooperman's areas of expertise include environmental politics and policymaking, political economy of development and distributive politics. Dr. Ding's research agenda centers on emerging technologies and international politics.
Dr. Cooperman's research primarily focuses on Brazil and the United States in contexts where water is a key issue—either too little or too much. She received her bachelor's in human biology at Stanford University, her master's in international affairs at University of California, San Diego and her PhD in political science at Columbia University. This fall semester, she is teaching the undergraduate Scope and Methods course (2101).
Dr. Cooperman first became interested in political science while working in international development, where she saw how local political relationships impacted people's vulnerability to natural disasters and access to basic infrastructure. Drawing on experiences abroad and in the United States, her research focuses on how community organizations shape which groups have an effective voice in local politics and policy. As communities around the world increasingly face more severe and frequent disasters, she hopes that her collaborative work can help us identify ways to strengthen sustainable development and climate resilience, especially for marginalized groups.
Dr. Cooperman loves being a political scientist because she can collaborate with practitioners and scholars and use multiple methods to better understand the world around us. She always requests to teach the undergraduate methods class because she enjoys showing students that they too have all the tools necessary to analyze data and make inferences about society and politics. She is having a great time learning from her students' fascinating jobs around D.C. and connecting with policymakers around the city to put her research into practice! 
Dr. Ding's current book project investigates how past technological revolutions influenced the rise and fall of great powers, with implications for the U.S.-China competition in emerging technologies like artificial intelligence (AI). His other research papers tackle how states should identify strategic technologies, assessments of national scientific and technological capabilities and interstate cooperation on nuclear safety and security technologies. Growing up in Iowa City, Dr. Ding became an avid Hawkeye fan and completed his undergraduate studies at the University of Iowa. He went on to receive his PhD from the University of Oxford.
Dr. Ding is excited about joining GW's Political Science Department because he thinks that academic research can improve our understanding of the U.S.-China relationship: possibly the world's most consequential bilateral relationship. Given the growing importance of technological competitiveness to this relationship, he hopes his work and teaching will shape how policymakers navigate a tumultuous geopolitical environment. This fall semester, Dr. Ding is teaching a course on emerging technologies, AI and international politics (3500) and a course on the politics of China's innovation system (3192w). 
---
Welcome New Postdoctoral Associate: Jasmine Smith
The Department of Political Science is excited to welcome our newest Postdoctoral Associate and Assistant Professor (beginning next year) Dr. Jasmine Carrera Smith. Dr. Smith's research and teaching interests include American politics, race, ethnicity and politics and political behavior.
Dr. Smith received her bachelor's degree in political science from Indiana University in 2017, and her PhD from Duke University in 2022.
Dr. Smith has always considered herself a politico. She first became interested in the study of politics after taking an African American politics course at Indiana University. It is here where she learned that people devote their careers to understanding how and why people that look like her participate in politics, represent their constituents and ultimately enact political change. With the encouragement of her undergraduate mentors, Dr. Smith participated in the Ralph Bunche Summer Institute, an intensive program designed to introduce underrepresented undergraduate students to the study of political science. After completing this program, Dr. Smith knew that she, too, wanted to pursue a career researching how Black Americans exercise political power and teaching students to use the tools developed in the classroom to become active citizens.
Dr. Smith is excited about living in Washington, D.C.; knocking every Smithsonian museum off of her bucket list, going to jazz shows; dancing to go-go music; and enjoying the D.C. foodie scene.
---
Department Kudos
---
Alumni Class Notes
Lauren Alperstein, BA '05, will take office in January 2023 as a circuit court judge in the Seventeenth Judicial Circuit in Broward County, Fla.. She was honored as Attorney of the Year in 2021 by Legal Aid Services of Broward County for her volunteer legal work and work as a guardian ad litem in child abuse cases. 
Maria Ayoung, BA '11, wrote and published a children's book, In The Year 2020, about the silver linings of the pandemic. She and her husband have resided in Houston, Texas, for the past 10 years.
Haining Bao, BA '22, is currently a MA candidate in the East Asian Languages and Civilizations Department at the University of Pennsylvania where he researches the topic of Chinese politics, Chinese foreign policies and East Asian security.
Jason Blank, BA '02, is a partner at the law firm of Haber|Blank, LLP in Fort Lauderdale, Fla. His practice focuses on criminal defense and Florida election law. He is currently the vice president of the Florida Association of Criminal Defense Lawyers.
Jacky Clyman, BA '69, moved to N.Y. with her husband in 1970, where they started an aviation/military apparel company, Avirex, and a retail arm, Cockpit USA, in 1975. They sold the Avirex trademark and restarted in 2006 under Cockpit USA.
Katie Costello, BA '15, has worked in a PR role for Gartner since 2018, managing global teams across various business units. She previously spent 3 years as a federal consultant for IBM. She lives in Alexandria, Va., with her husband, who also went to GW.
Bogena Dergalo, BS '20, is working in finance at Alliance Bernstein in New York. She misses GW and hopes to come back to pursue her graduate degree.
Daniel Egel-Weiss, BA '15, is counsel for state government relations and regulatory compliance for Major League Baseball.
Brian Fallas, BA '15, started at UCLA Law School, where he is pursuing his interest in business litigation and has already obtained a placement at Quinn Emanuel Urquhart & Sullivan for his 1L summer. He was previously working as a middle school English teacher. 
Paul Ferber, MPhil '80, PhD '86, retired from his position as professor of political science at Rochester Institute of Technology, after being employed there since 1981.
Omeed Firouzi, BA '15, lives in Philadelphia, Penn., with his new bride, Erin Agnew, BA '17. He is a tax attorney at Philadelphia Legal Assistance and was recognized by the Philadelphia Bar Association as a rising star.
Adam Friedman, BA '22, was a field organizer on Congresswoman Jennifer Wexton's re-election campaign in VA-10.
Yan Fu, BA '10, started his own law firm, The Fu Firm PLLC. He represents victims of police misconduct and employment discrimination in state and federal courts in New York.
Craig Garcia, BA '07, is a retired labor organizer and resides in rural France as a cheese entrepreneur.
Mark Gelfand, BA '73, is retired from active law practice, but serves as a civil case arbitrator in the New Jersey courts. He lives at the beach in Long Branch, N.J., and is happy to be traveling again.
Danielle Gilbert, MA '16, PhD '20, published "The Logic of Kidnapping in Civil War: Evidence from Colombia." American Political Science Review, 116 (4): 1226–1241.
Howard Gold, BA '89, is the president and founder of the nonprofit United States Global Initiative, which is dedicated to American global leadership with our fellow democracies.
Billy Grant, BA '20, took a gap year during COVID to gain real world political experience back home in Florida. Since then, he has matriculated and is now in his second year of law school at George Washington University Law School.
Elizabeth Grasmeder, MA '16, MPhil, '18, PhD '20, won two awards for her article "Leaning on Legionnaires: Why Modern States Recruit Foreign Soldiers," International Security Vol. 46, No. 1, (Summer 2021), pp. 147-195: the APSA Katherine MacArdle Kelleher Best International Security Article Award 2022 and the International Security Studies section of the International Studies Association best article award for 2021.
John Graziano, BA '14, was promoted to director of marketing at Merck, leading a team focused on a critical new product launch in rare disease.
Simone Haugen, BA '16, is practicing law at a Chicago law firm and preparing for an upcoming constitutional trial beginning in January 2023.
Michael Hawthorne, BA '19, JD '22, graduated from The George Washington University Law School and is now a public policy associate at Squire Patton Boggs in Washington, D.C.
Melissa Henderson, BA '11, is the founder of Violet Verse, a Web3 content marketplace and token-gated decentralized media application. She is also head of a community at an Ethereum- compatible protocol.
Ian Higham, BA '11, defended his PhD in political science at Stockholm University in 2021. He is a postdoctoral researcher in environmental politics at the London School of Economics.
David Holt, BA '01, was re-elected in February as mayor of Oklahoma City, America's 20th largest city. He received 60 percent of the vote, 40 points ahead of the nearest challenger. The race had more votes cast than any OKC mayoral election since 1959.
Kevin Holzendorf, BA '19, works at M&T Bank in regulatory risk management, after finishing the bank's management development program in 2021. He is a senior compliance analyst in anti-money laundering, applying regulatory experience and education.
Fatemeh Hosseinpour, BA '13, joined the International Centre of Human Rights in Toronto to advocate on behalf of Iranians protesting for their basic rights & freedom to the Canadian Government, through organizing rallies, drafting statements and amplifying the voices from Iran.
Hunter Ihrman, BA '20, was promoted to director of policy communications for the National Cattlemen's Beef Association. Hunter was also appointed to the Virginia Board of Conservation and Recreation for a 4-year term by Governor Glenn Youngkin.
Matthew Ireton, BA '08, produces film and TV content in Japan for an international audience. He previously worked as an actor and a TV and radio show host. 
Timothy Kelly, BA '17, left private practice earlier this year to join the Office of Chief Counsel at the U.S. Treasury Department.
Taylor Lashley, BA '17, moved to New York City to pursue a career in social media marketing after graduating from GW. She is currently the social media manager at Vogue magazine.
Caeli Mahon, BA '15, MPS '17, marked five years in September with the leading digital consulting firm on the right, Targeted Victory. She is their vice president, overseeing strategy and optimization efforts for the company's political division.
Max McGowen, BA '11, MPS '12, is a senior business process improvement specialist at National Philanthropic Trust, a public charity whose mission is to increase philanthropy in society. He has 8 years of experience in nonprofit operations and business development.
Ryan Moorman, BA '16, moved back to Los Angeles during the pandemic and manages a data and analytics team at SpotOn, a restaurant and retail point of sale product.
Emily Mosley, BA '22, is now the international cyber policy center coordinator at The Australian Strategic Policy Centre in Australia. She manages the visitations of foreign dignitaries and members of parliament and helps to publish research on current affairs.
Cheryl Moss, BA '89, retired in January 2021 after serving 20 years as a State of Nevada district court judge. Judge Moss was recently commissioned as a senior district court judge in Las Vegas, Nev.
Sally Nuamah, BA '11, published Closed for Democracy with Cambridge University Press.
Michael Orenstein, BA '79, has worked in private law practice for the past 38 years, specializing in criminal law in state and federal courts throughout the U.S.
Epiphany Ramirez, BA '21, works for Butterfly Network, a health tech company focused on disrupting the point-of-care ultrasound space with medical innovation that offers anyone at any time access to proper medical imaging. 
Tom Rial, MA '98, was the western Iowa field organizer for Admiral Mike Franken, during his Democratic candidacy for U.S. Senate. He took a break from work in global biomass-based clean-energy development projects to work on the campaign.
Michael Rosenberg, BA '91, announced his transition from the Public Company Accounting Oversight Board (PCAOB) Division of Enforcement and Investigations to the PCAOB's Office of International Affairs, where he will be an associate director.
Jeffrey Sacks, BA '80, celebrated his 40th wedding anniversary with his wife and GW alumna, Roni, BA '79, on October 23, 2022. Every summer, they enjoy traveling back to GW and reminiscing.
Sotiris Sampson, BA '88, is an attorney at law in Cyprus.
Gregory Schiller, BA '00, has been a career prosecutor in state court and now with the U.S. Attorney's Office for the past 6.5 years. He specializes in internet crimes against children and human trafficking.
Sandi Schwartz, BA '99, has written Finding Ecohappiness: Fun Nature Activities to Help Your Kids Feel Happier and Calmer (Quill Driver Books, 2022) to guide families on how to use nature to reduce stress and boost their mood.
Julia Scott, BA '20, is a paralegal at Philadelphia Lawyers for Social Equity.
Annelle Sheline, MA '15, PhD '18, was in the inaugural cohort of the 40 under 40 awardees of the Mideast Policy Council. 
Christopher Teal, MA '97, began the fall semester by joining GW's Institute of Public Diplomacy and Global Communications. 
Kyle Tuverson, BA '19, is excited to be connecting with fellow GW alumni as part of the Columbian College of Arts and Sciences' Development and Alumni Relations team, after being evacuated in 2020 from Cameroon during his Peace Corps service,
Michael Wear, BA '10, founded a new, nonpartisan nonprofit, The Center for Christianity and Public Life, with the mission to contend for the credibility of Christian resources in public life and for the public good. He serves as the organization's president and CEO.
Scott Weiner, MA '16, PhD, published the book Kinship, State Formation, and Governance in the Arab Gulf States with Edinburgh University Press.
Robert Weisbein, BA '79, works at the New York office of Foley & Lardner practicing trademark and copyright law.
Danielle Wilkerson, BA '02, spent several years working on, consulting for or managing a variety of political and ballot measure campaigns. She then spent roughly 7 years advocating for education employees through their union before returning to school to get her JD.
Ken Winneg, BA '82, is managing director of survey research at the Annenberg Public Policy Center at the University of Pennsylvania. He is co-author of Democracy Amid Crises: Polarization, Pandemic, Protests, and Persuasion, published in November by Oxford University Press.
Rich Zahradnik, BA '82, had his recent thriller, The Bone Records, published on November 1, following four critically acclaimed mysteries, including Lights Out Summer, winner of the Shamus Award from the Private Eye Writers of America.
James Zarsadiaz, BA '08, published Resisting Change in Suburbia: Asian Immigrants and Frontier Nostalgia in L.A. with the University of California Press.